Truck Accident Lawyer Wilmington DE
Truck accidents can cause catastrophic injuries and loss of life for those involved, and truck traffic is heavy on the major highways and local roads in the Wilmington DE area. If you live near Wilmington, you know this for yourself and are probably on heightened alert when driving near or past trucks.
If you've been in a truck accident, you need legal representation from an experienced Wilmington truck accident attorney- quickly. The longer you wait to decide to work with an attorney, the more evidence is lost and witness' memories fade. You should focus on healing from this traumatic event and let our attorneys handle your personal injury claim.
How Our Wilmington Truck Accident Lawyers Can Help
Why Choose Us?
With the Chong Law Firm you get the personal attention of a small firm with the expertise of large firm practice. Our truck accident attorneys will thoroughly investigate and find who is responsible for your truck accident, and vigorously prosecute your claim if the insurance company won't pay what you are due. 
Free Consultations Offered
Know that your initial consultation with us is free of charge, and if we decide to work together, our firm takes truck accident cases on a contingency basis – meaning we do not get paid unless and until you do. And you will know what our fee is as soon as you execute your retainer agreement with us. There will be no surprises.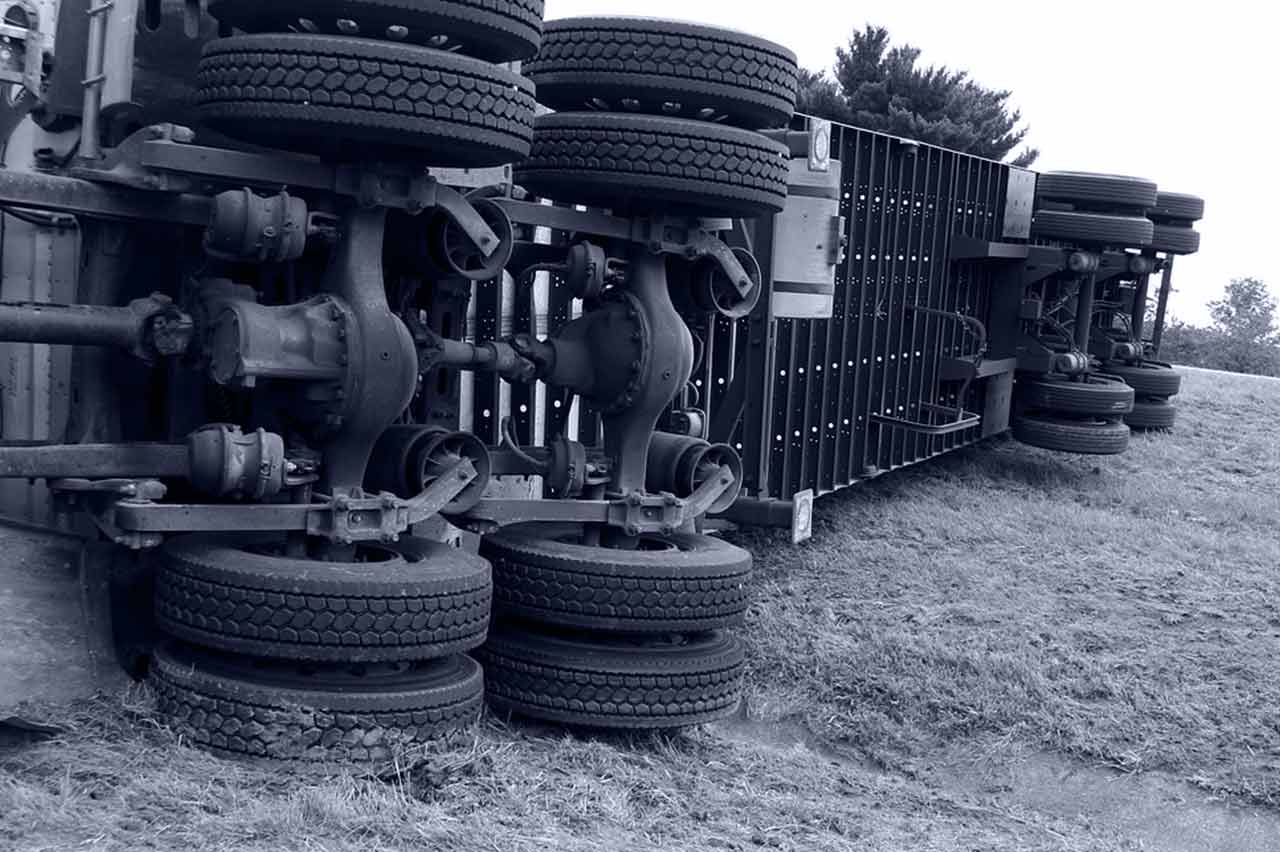 Common Types of Truck Accidents
These are the most common causes of truck accidents in the Wilmington DE area:
Sun glare
Road debris
Road wet or icy
Driver tired
Driver intoxicated
Brakes fail
Tire blow out
Trailer or cargo improperly secured
Trailer jack knife
Car drives under trailer
Truck rolls over from improper steering and speeding
Often the driver is not at fault, such as when the truck is improperly maintained, cargo improperly secured. Sometimes a driver of another vehicle is at fault, such as when a car tailgates a tractor-trailer or brakes unexpectedly in front of a tractor-trailer.
Who is Usually Held Liable for Truck Accidents?
Any, some, or all of the following parties may be liable if someone is injured in a truck accident in Wilmington:
The truck driver
Another driver
Whomever is responsible for maintenance of the truck
Whomever maintained the truck
The trucking company
The truck manufacturer
The cargo-loading company
Your truck accident lawyer will perform a thorough investigation to identify every party responsible for the truck accident that injured you.
The Average Settlement of a Truck Accident Case in DE
Many settlements are confidential so it is impossible to get an average. Due to the high probability of significant property damage, catastrophic injuries, and death, a truck accident settlement can be in the millions.
Contact Our Wilmington Truck Accident Lawyers Today for a Free Consultation  
Our truck accident lawyers in Wilmington are ready to help you through this difficult time and get you the best result possible. Speak with our attorneys today to discuss your case.
Commonly Asked Questions about Truck Accidents 
How Much Does It Cost to Hire a Wilmington Truck Accident Lawyer?
Most experienced truck accident lawyers take cases on a contingency basis, which means that they only get paid their fee when and if you get a settlement or judgment in court. If a truck accident lawyer takes your case, they believe they have an excellent chance of winning.
What are Some Common Causes of Truck Accidents in Wilmington, DE?
Factors outside the truck driver's control such as brakes failing, a tire blowout, and improperly secured cargo cause a lot of truck accidents in the Wilmington area. If the driver fails to take into consideration poor road conditions or sun glare, their negligence may also cause an accident. If they speed or tailgate, that causes accidents. Last, if the driver feels drowsy or is intoxicated, that affects their ability to drive and react to what is happening on the road, and accidents occur.
I was Partially Responsible For My Truck Crash. Can I Still File a Claim?
Yes. Delaware is a modified comparative negligence state, meaning you can receive compensation if you were 50% or less responsible for causing the truck accident.
How Is Fault and Negligence Determined in a Wilmington Truck Accident?
Your Wilmington truck accident attorney will investigate and determine what caused the accident and who was at fault. Once your attorney has come to their conclusions, they will send a pre-lawsuit demand to those parties. The allegedly liable parties will then perform their own investigations and come to their own conclusions. 
If the conclusions agree, you may receive a settlement. If the conclusions differ somewhat, your truck accident lawyer may be able to negotiate a settlement. If the conclusions differ greatly, your truck accident will file a lawsuit against those who are liable for your injuries.
Speak With an Experienced Truck Accident Lawyer Today to Get the Help You Need
The legal team at the Chong Law Firm will fight hard to protect your interests and keep you infrared every step of the way. You need compensation for property damage, medical bills, and lost wages if you had to miss work due to your injury. Our experts will help us determine if you are eligible for additional compensation for pain and suffering, future medical expenses, and lost economic opportunity due to your truck accident injuries.
We will fight for every penny you are owed. Call our attorneys today to discuss your truck accident case. Our attorneys can also help with the following: